My Approach
Together we will collaborate on goals for your counseling I generally use a combination of techniques that work best with an individual client rather than try to fit your needs into a box.  Feel free to reach out to me if you would like to know if I practice a specific technique.
Clients have appreciated my ability to listen without judgement or without taking sides.  They have described me as an anchor because I assist you in staying grounded on your journey to creating the life you want.  They have also taken comfort in knowing that I am a "bulldog" in that I advocate for your well-being, help you find your strength when you are in a rough patch, and help you stay accountable to yourself in finding your happiness, whether you are a couple or an individual.
My Story
Originally from Buffalo, NY, I've  resided in Huntington Beach, CA since 2004. I graduated cum Laude, from Holy Cross College near Boston, MA, and hold a BA in Psychology. I worked for several years with autistic children at an institution and then people suffering from anxiety and depression on a project at Brown University.
Upon moving to California in search of good weather, I did a brief stint in the corporate world in sales and marketing. I experienced first-hand the deleterious physical and mental effects of too much stress from 8-6. At this point I made a life changing decision to found a business helping my clients with physical health and fitness.
Through my work with physical health, I have seen the effects of mental health on physical health and reaffirmed my belief in the mind-body connection and in 2014 I went back to school to give me the training to help people with mental health.
I practice what I preach and stay clear and grounded by regularly engaging in exercise in nature through surfing, skiing, climbing, sailing, mountain biking and diving.
Experience
Associate Therapist at Laguna Beach Counseling Center
Adjunct Professor at Pepperdine University's Graduate School of Education and Psychology
Intern and Associate Therapist at Living Success Center in Costa Mesa, CA
Pepperdine University: MA Clinical Psychology with Emphasis in Marriage and Family Therapy
Assistant Project Coordinator on chronic depression research REVAMP (Re-Evaluating the Value of Augmenting Medication with Psychotherapy) at Brown University
Research Assistant Harvard/Brown Anxiety Research Project
Behavioral Therapist for children with autism at New England Center for Children
BA in Psychology at College of the Holy Cross, cum Laude
Elected to Psi Chi Psychology Honor Society
Intern at Worcester Secure Treatment Unit,  working with incarcerated adolescents on anger management, emotional expression, and social skills.
Leader at Lothlorien Therapeutic Riding Center
Additional Trainings or Certifications
Gottman Method Couples Therapy
Eye Movement Desensitization & Reprocessing (EMDR) through emdrhap.org
Mediation/Dispute Resolution Certification from Pepperdine Law School's Straus Institute of Dispute Resolution
Relationship Discernment
Applied Behavioral Analysis
My Office At 465 Forest Avenue, Laguna Beach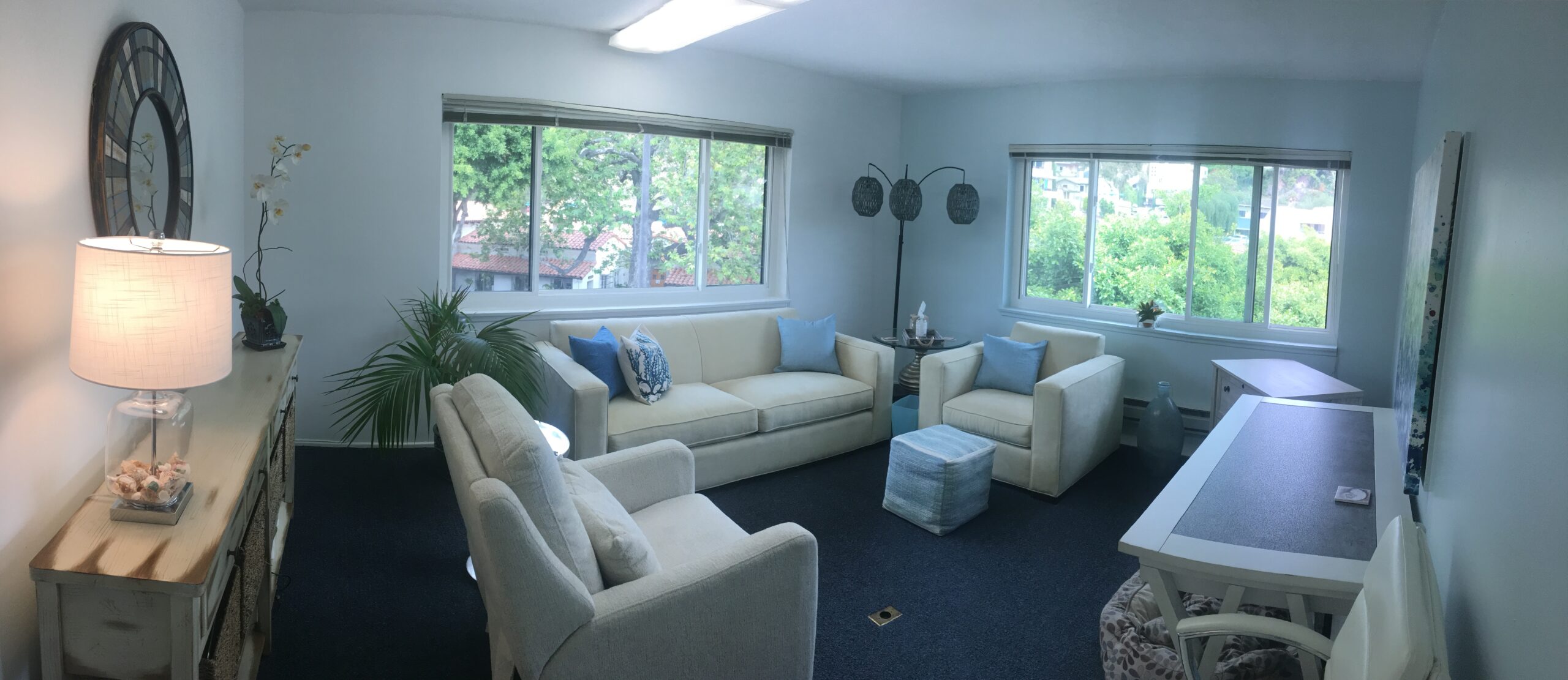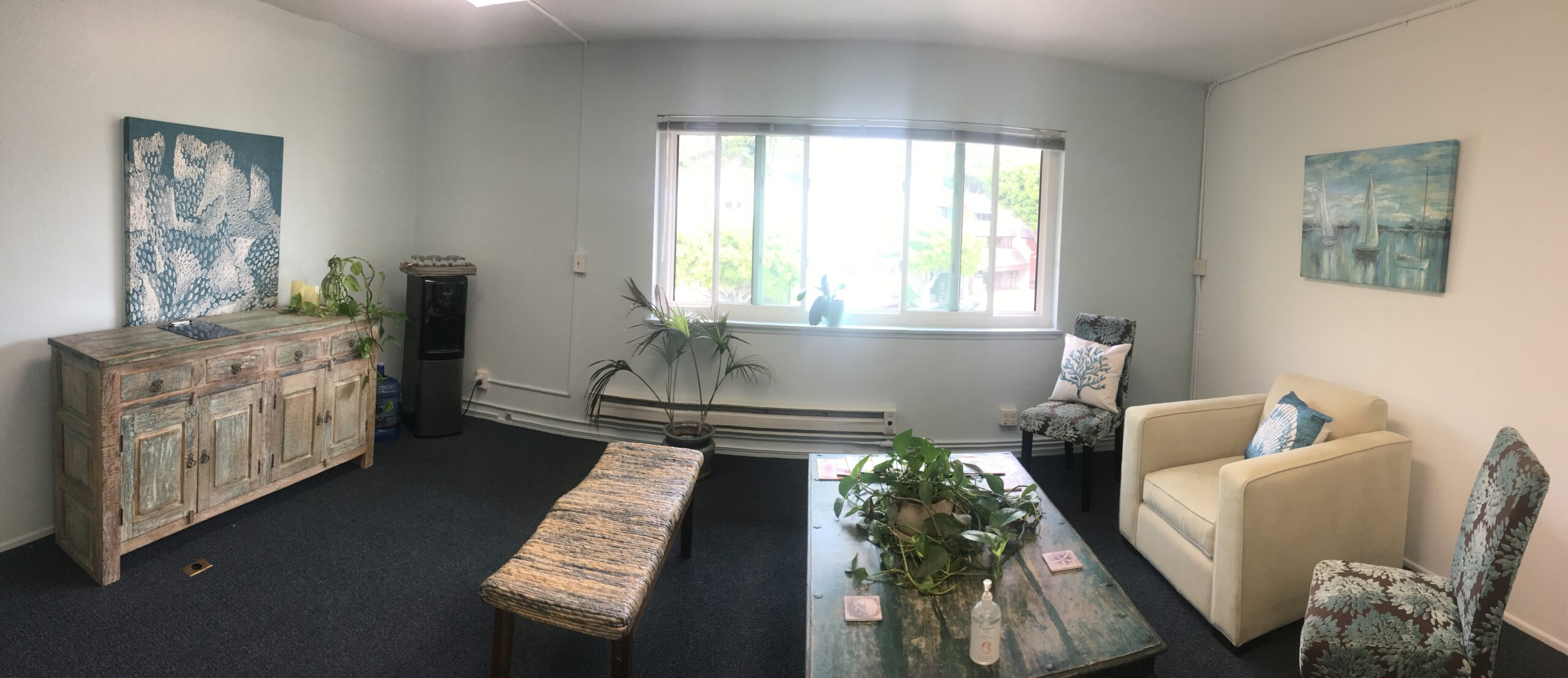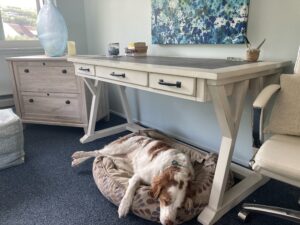 The office is located across from the beach in downtown Laguna Beach.  It has a calming beach ambiance with lots of natural light.  Come a little early and relax on a cozy Room-and-Board sofa or chair while listening to waves and looking at coastal art or at the view of the mountains and tree tops out of the large windows in the waiting room.
You may prefer a walk and talk session on the main beach, a 5-minute walk from the office down Forest Ave.  Some clients prefer to walk on the beach after the session to process.  Make a date of your couples session and walk to one of the nearby restaurants on Forest Ave before or after the session.
Complementary 30-minute office consultation
Let's talk and find out if we are a good fit for each other.